For those of you that have been asking us for a more affordable lifting cushion option, now we have one! This affordable patient lifting cushion meant for home use can be purchased for only $629.00. Just call us at 770-765-0099 to make your purchase or click here to go to our eBay store and make your purchase. Either way, shipping is always free at Mobile Patient Lifts.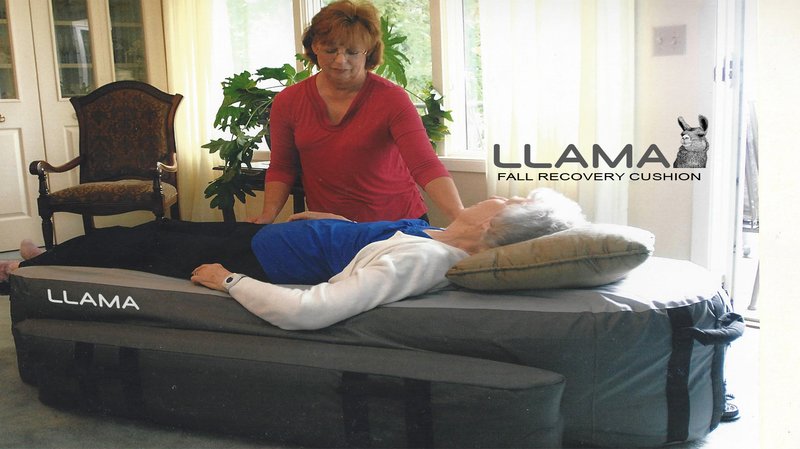 Description:
The LLAMA (pronounced 'Yama') Fall Recovery Cushion is the perfect choice for those that are seeking a value-priced system for those loved ones that suffer from falls, are uninjured, but cannot get back to their feet without assistance. With a maximum lifting capacity, the LLAMA will work in almost any fall recovery situation.
The LLAMA's side balance supports inflate first to assist in keeping the fallen person centered and balanced during the lifting process. In addition, the LLAMA has two nylon handles at each end to assist in moving / sliding the fallen person if necessary before getting them to a seated and upright position.
It works with either 120 Volt AC power or with the optional portable power unit. The optional portable power unit also has a led light, (2) 120 Volt outlets and a USB charging port.
Specifications:
Height: 17 inches (as a comparison, the typical toilet seat ranges anywhere from 14 to 18 inches when measured from the floor to the seat cushion)
Width: 33 inches
Length: 62 inches
Maximum Capacity Lift Load: 400 pounds
Approximate Inflation Time: 1 minute to inflate lower side stabilization cushions / 3 minutes for complete inflation
Power: 120 Volt AC / Optional Portable Rechargeable Power Source
WARNING: Do not attempt to use this product if the individual that has fallen is injured, suffered a heart attack or stroke or is unconscious. Instead, you should immediately call your local emergency service provider (911). User assumes all risks associated with operation of this product.